Use the link below to contact me, if there is a problem.
Please include your name in the email.
Problems--Email Me John Winkopp (321) 345-3855 in Florida

INSTRUCTIONS:
1. Download your entire logbook from APA
(do not filter for tax year)(do not open/view the file):
APA TASC Logbook page Must be logged in to APA for link to work.
If logbook link above does not work, use the "GoTo" link in upper right corner of the TASC Sabre page to find the Logbook.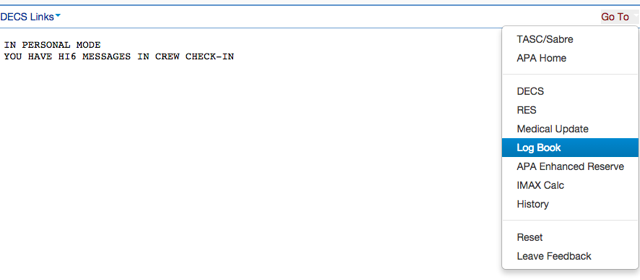 Select "create logbook", if visiting logbook page for first time to generate the data. When the data appears, select the fourth button over, at the top left corner, looks like

, the "Export Button.
This button will bring up another window, look for "Crystal Reports (RPT)" with a dash at the end. Click the dash for a new list of options.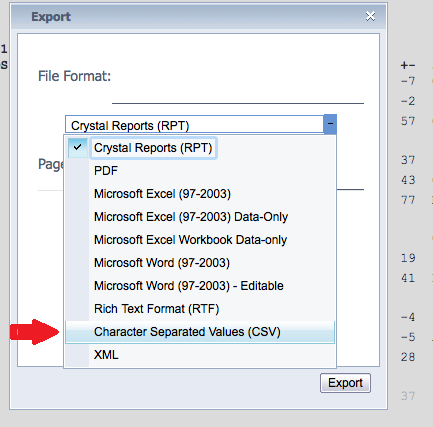 Select "Character Separated Values (CSV)" and then click the "Export" button at the bottom of the little window.
You do not need to filter the data for any time period, download the entire logbook. Save the "CSV" file to your computer and remember where you save the file. Do not open it now. If you open the file it can change the format of the file.

Go to Online Per Diem Input Form
2. Upload The File
Use the "Choose File" or "BROWSE" button, above on this page and select the saved "CSV" file (click the "Select" or "Open" button). The file is probably named "myCrystalReportViewer.CSV" and located in "Downloads" on your computer.
3. Enter your email address
4. Enter your training days (HI10)
5. Hit "Send".
A PDF report with your data will be emailed to you nearly instantly.

The entire process should take no more than 5 minutes.
If you do not get an email with your report almost immediately, something is wrong, try again or contact me.
This service is free, but you can donate no more than $5 to pay for time, effort and server costs if you wish.


Common Problems
Did not receive the email


Did you type in the wrong email address?
Do you have a spam filter on your email inbox- try a different email account.
Did you open your logbook before uploading it? It usually opens inside MS Excel and when you close the file, it puts extra formatting into the file.
You see an error page after sending uploading the file
Did you download the file in "CSV" format? Look at the image above again. After hitting the little box with the arrow coming out, be sure to click the "dash" after "Crystal Reports (RPT)"
I can not find my file after downloading it. You are not alone. If it is not in "Downloads" directory, it might be on your "Desktop" or in your "Documents" folder.

Problems?